There is nothing better on the internet than Gordo Byrn's reflections on Family, Fitness, and Finances - his major areas of interest in life. Gordo is a former world champion professional triathlete at the ultradistance specialty. Before that, he was a high finance whiz kid who had an exceptional and brief career before jumping ship around age 30 and going full bore into ultra triathlon. he's pushed his body to a training volume matched by few humans in history. Yes, there are many laborers who work extremely hard, but (as Andrew MacNaughton reminds us) if you define work as
mass x force
, guys like Gordo or Andrew or Pete Kain (going on his 30th straight competitive triathlon season at elite pro or amateur level) have worked harder than most any human who has ever lived.
Here is a reprint of one of Gordo's blog postings.
Subscribe to his blog
and get a regular dose (not an overdose he promises) of insightful commentary at a perfect word length for your busy life. Following his post are my comments back to him. See what you think....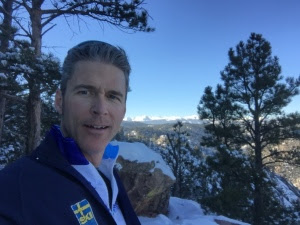 It was my 47th birthday last week.
Borrowing from the late Oliver Sachs, I decided to look up 47 on the periodic table. I was happy to discover it's the element Silver (47Ag). So the next 12 months will represent my Silver Year.
When I'm going through a tough patch, I tell myself to live-every-phase.
I have two tendencies that distract from a goal of living every phase of my life.
The first is wishing backwards - mourning the loss of peak physical power.
The second is wishing forwards - feeling like I am trapped in a perpetual holding pattern with my preschoolers. Wishing for freedom that, I believe, will come later.
The above thinking is not useful.
A useful antidote is to reflect on the advantages of my Silver Year.
My life is straightforward, surrounded by wonderful people, close to nature and simple.
While I'm past my athletic sell-by date, nearly all my physical changes so far have been positive.
Staying healthy is easier, and requires much less time, than I expected. As a former ultra-endurance athlete, the toughest part has been changing my belief system to reflect what I've seen with my body.
With that in mind, I'll offer this observation about my younger self.
If you have the capacity to convince yourself that total focus towards your goal is "necessary"
If you have the capacity to commit significant, sustained attention towards a narrow field of interest
If you have the capacity to recover from high workloads
then you have what it takes to succeed.
Yay!
However...
You also have the capacity for sustained, extremely poor judgement.
+++
Success in a narrow niche is about getting a lot of work done, shedding non-core and motivating others to help you achieve.
However...
As we age, we're likely to value connection more than success.
...and connection is about being good enough across a wide-network of relationships.
...and my relationships benefit from what I don't do, don't say, don't indulge
+++
Now, at this stage of my life, there is a growing realization that the people around me don't care about my personal productivity. They want to see me happy and serene.
However, I notice that time is passing and the window for getting-stuff-done is closing.
But what stuff will "I" value having gotten done if I arrive at my Golden Year (79Au)?!
I deal with this tension by pausing and paying attention whenever I feel happy, content and serene.
+++
The motto "live every day" always makes me feel like I should be enjoying myself.
For my Silver Year, I prefer "live every phase" -- giving myself permission to experience my difficulties as they come and vowing to keep moving forward despite knowing how the story will end.
**
Brilliant Gordo..here's a couple things:
1. Preschoolers - yes, maximum energy and attention and battery drain. My perspective now with kids 18 and 16 is that every phase was beautiful and perfect. I shudder at the idea of having pre-schoolers right now, and I was exhausted during that time period going all in. Other parents tried to intimidate me about the teenage years and while there was plenty of truth expressed (they get difficult/moody/rebellious, they don't need you any more blah blah), even the battles are a beautiful phase. Think of the alternative of an 18-year-old man clinging to my side like a preschooler. no thanks. Right when i was about to crack many times, my kids entered a new phase, bringing relief and also new challenges.
2. Training - reflecting now, I think its possible that if we only trying to win, decisions would have been different. Lighter work load, more self care and self respect and moderated competitive intensity. Instead, I think many in our game were compelled to suffer, as a (possibly healthy psychologically) rite of passage in a world that's too safe and easy. Leaving your best performances in workouts sucks in many ways (poor judgement as you say) but it delivered a payoff on the spot, eh?
**
I have an idea for a new book - it's about transitioning from Type A to Type B...Letting go of attributes that no longer serve me or bring happiness. I think it could be of interest to many. Why does society value the excess competitive intensity too much? Maybe the parking attendants of the world have more to offer than the overblown lifestyle gurus that populate the social media. I spoke in Spanish to a parking lot attendant a few months back, lamenting my struggle to speak better Spanish. He said don't worry about it, the most important thing is the esfuerza - making the effort. What a profound statement!